Cameron Counselling was set up in 2002 by Joanna Saatchi and Pam Drysdale, who met while working towards a counselling qualification in 1996.
At Cameron Counselling we provide a warm, supportive atmosphere for issues to be explored and resolved, maintaining the highest regard for the rights, dignity and well-being of clients. Our aim is to help people develop skills and strategies to handle life's challenges in a healthy and resourceful way.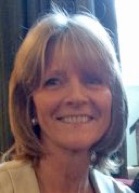 Hi, my name is Joanna, or Jo. My involvement in therapy began in 1987 when I worked for a relationship counselling charity as a counsellor and supervisor. I followed up my counselling qualifications with a degree in Psychology to better understand what makes people tick. I have kept my skills fresh with techniques such as cognitive behavioural therapy, art therapies, coaching strategies and mindfulness which means I can offer different elements within sessions to suit an individual, their circumstances and preferences. Whatever the approach, at the heart of the whole process is listening.
Our strengths and inner resources can be seriously tested in this fast-paced society with its numerous complex demands. Counselling provides a safe space in which to pause, take stock and untangle some of the issues we may be struggling with.
People come to counselling for many different reasons. They may be wondering how best to handle an on-going problem situation or relationship, or want to explore patterns of behaviour or events that may have their roots in the past. Sometimes people get blocked by sadness or grief or by unhappy or traumatic experiences, which prevent them moving towards their potential.
Many of us struggle with confidence and self esteem issues and having someone who can give us supportive feedback or help us to see things from a new perspective can be helpful.
In addition to working with individuals and couples, we provide training for groups in areas such as bereavement and loss, communication, self esteem and personal growth. I have extensive experience in pastoral settings and in the area of spirituality and am equally happy working with people with all faiths and beliefs, and those who do not hold any religious beliefs.
Telephone: 07771 737370
Email: joanna@cameroncounselling.com
Joanna Saatchi, Dip Couns; BSc (Hons) Psych; PGCE, BA Div.
Fees
My fees for counselling are £40 for individuals and £50 for couples. Sessions are an hour long and are held in a private setting at Wilmslow Physiotherapy.
Pam Drysdale
My values about counselling and my passion for helping people, are very similar to Joanna's and this has contributed to us working successfully together. While I no longer offer counselling appointments, I continue to collaborate with Jo in training events. We also run days, or half days, for small groups or individuals who want personal development or for those who simply wish to set aside some space to reflect.
I currently co-ordinate the counselling service for the Macclesfield and District Branch of the Multiple Sclerosis Society, doing initial referrals and managing a team of four therapists.
Pam Drysdale, Dip Couns; D.Hyp
Telephone: 07813 309626
Email: pam@cameroncounselling.com